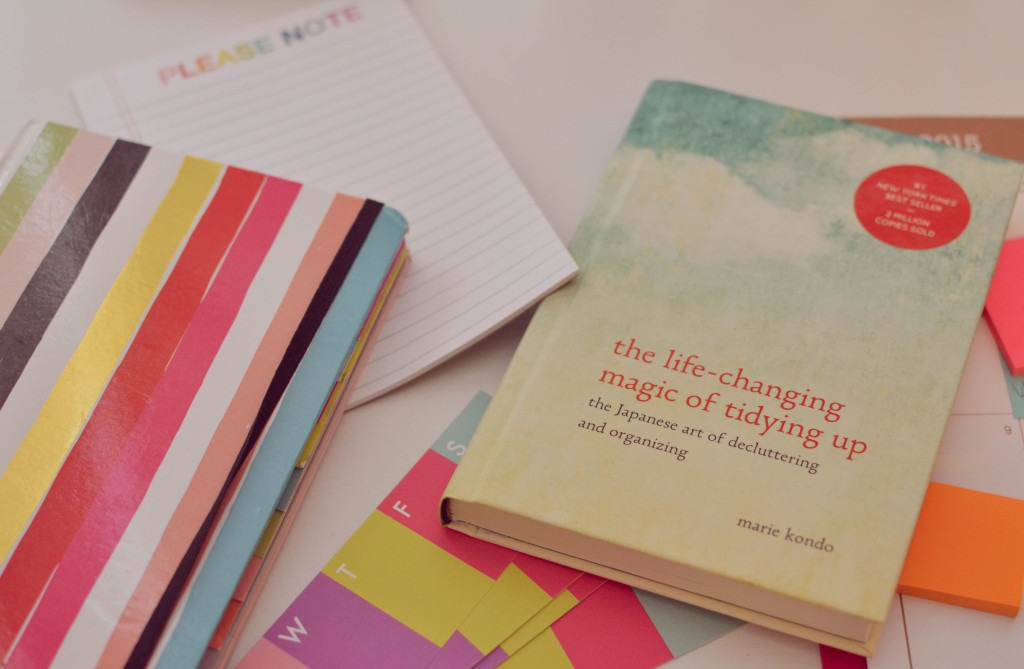 So I might be am definitely a makeup hoarder. I start off with the best intentions when I shop. My goal when I am in the store is always to find the holy-grail foundation that perfectly matches my skin and compliments my complexion so I can finally put all of the others in the past. I often think to myself now THIS is a lip color I can wear with everything. I legit can't actually leave a store without purchasing a nail polish. It is a problem.
Recently I realized that I stopped knowing exactly how many eyeshadows I own. I was no longer able to count how many periwinkle blue nail polishes sat in my collection unused. I bought the same exact lipstick on 3 different occasions not realizing that multiple tubes sat unused in a drawer. Not to mention, the startling fact, that multiple days a week I don't even wear a stitch of makeup. I decided it was time to host an intervention with myself. Enter Marie Kondo's book, the life-changing magic of tidying up. 
In the book Marie outlines a clear method for clearing out the clutter.
1.) You start with a category as opposed to a room or space.
2.) You put everything in the chosen category in the middle of the floor.
3.) You hold each individual item in your hand and ask yourself if it brings you joy. If it makes you happy it stays. If it doesn't make you happy it has to go.
It's all pretty straight forward, yet sometimes we need that extra push to let go of things even if they are no longer serving us. In the end I was able to find better homes for all of the makeup sitting unused and unnoticed. As a plus, I now am much more aware of what I do have and am able to put it to much better use. I do recommend this book. I thought Kondo's method contained a more cut and dry mentality that I had not seen before. It is extremely helpful if you are the kind of person that cleans out their closet multiple times a year. If you follow this book accordingly you won't be cleaning it out again for a long time. The best part is there is a genuine freedom and happiness that comes with having less.
(though I still have more than plenty.)