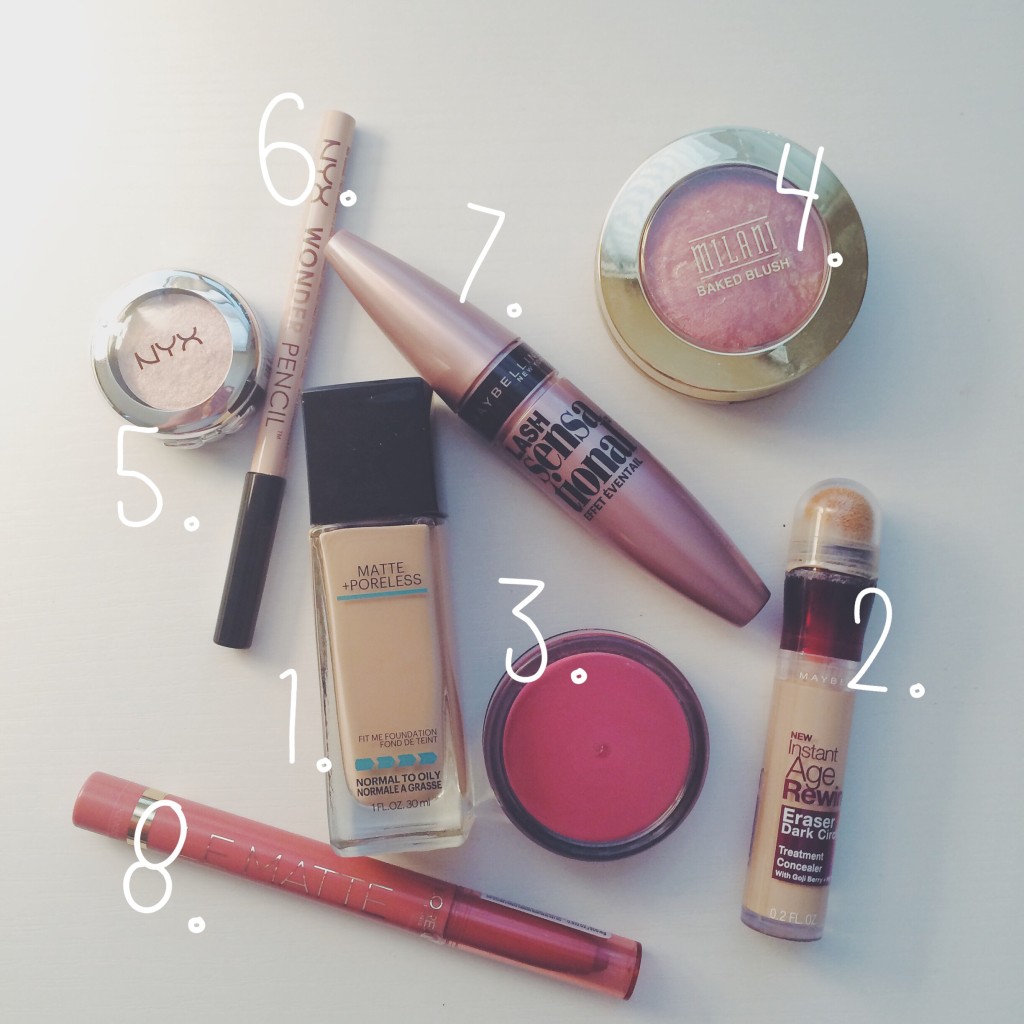 Lately there have been so many inexpensive products from the drugstore making their way into my makeup collection. In fact, some of these have become favorites over my high end buys! Honestly, I never thought there would be a day when I reached for a 7$ foundation over all of my other ones! Here are 8 of my favorite drustore staples. They are perfect for a natural "no makeup" makeup look or if you just want to brighten your complexion before you run errands on your day off.
1.) Maybelline Fit Me Foundation Matte and Poreless  Don't let the name fool you. While this says it is for oily skin, this foundation looks great on all skin types. It does leave a matte finish, but It doesn't cling to any dry patches. It lasts all day long and it looks so natural. Not to mention they have a really decent shade range.
2.) Maybelline Instant Age Rewind Dark Circle Eraser  I use this in shade neutral to brighten up undereyes as well as highlight above my upper lip and center of my forehead. The sponge tip applicator makes sure that you don't use too much and it leaves an even natural finish.
3.) Revlon Cream Blush in charmed enchantment– I am obsessed with cream blush. It always gives the most natural glow. Revlon cream blushes are some of my all time favorites. They come in only a few colors. I own them all. I can't recommend these enough. I often layer 2 blushes and these are perfect as a base or on their own. They are super user friendly. They blend very easily.
4.) Milani's baked blushes are another all time favorite formula. These are stunning. They have a little shimmer, but nothing glittery. They are pigmented, but bendable. They hold up to some of my favorite high end blushes. I love this one in rose d' oro to bring a touch of life to my face.
5.) NYX prismatic eyeshadow in Girl Talk is a pinky shimmery eyeshadow that can be work as a highlighter or on the eyes. I use it all over the lids as well as the high points of cheek bones for a natural glow.
6.) NYX wonder pencils are great for many things. They can be used as eyeliners or lip liners. Here I used one in the lightest shade on the inner rims of my eyes to make my eyes look brighter and more awake. This is a great tip for those mornings when you aren't feeling so hot.
7.) Ok! so it feels like everyone and their grandma has been RAVING about this Maybelline Lash Sensational mascara. Rightfully so. It has the same effect as Too Faced Better Than Sex for about 1/3 of the price. Drug store mascaras are what's up. They are much less expensive and there are so many good formulas. This one lives up to the hype.
8.) I don't think I can say enough good things about Loreal Le Matte Lip Pens. For those of you wary of the drying effects of liquid lipsticks this is your jam. They glide on smooth and they last without making your lips look parchedI have every color and every time I wear one I get a compliment.
Let me know any and all of your drugstore favorites in the comments below<3