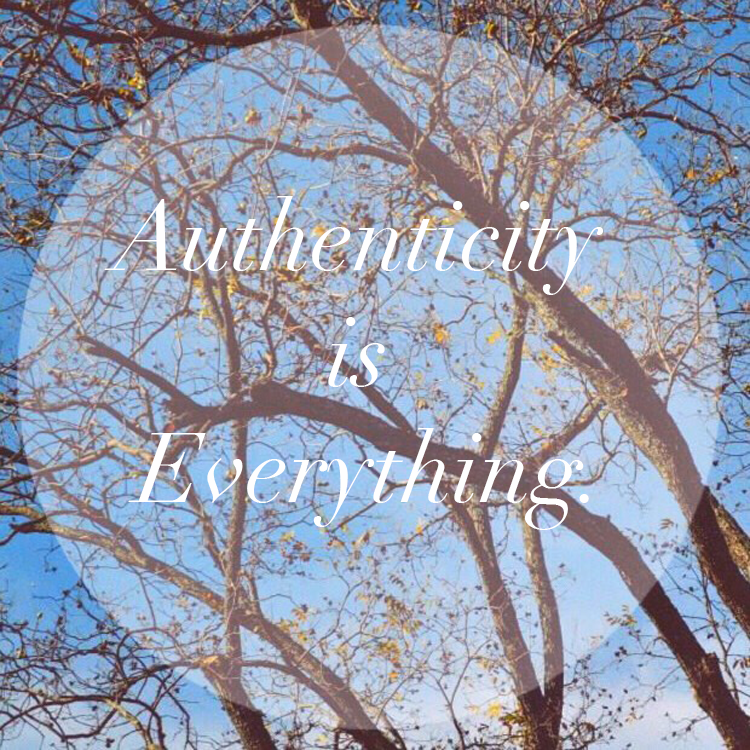 "Hard times arouse an instinctive desire for authenticity." -Coco Chanel
The last bit of life here has been an absolute whirlwind for me. I suppose we all need a shake up now and then. It's those "reality check" moments when everything around you seems to happen all at once that really cause you to be present. These past couple of months have brought such an abundance of joy along with the occasional sorrow. Alas, there isn't one without the other. It's strange how intertwined every part of life is. Sometimes it feels like coincidence. Other times it feels like design. The beauty of these moments is that they really force you to take stock of what's important and help you to forge the kind of person you would like to be. Since I have been having my own personal renaissance as of late I figured I might as well share what I've learned so far.
Authenticity is Everything.
To be authentic means to be genuine. It means to be real. First of all, if you aren't this then what are you? It's in life's most difficult and profound moments that we are forced to stand by our convictions and decisions. The importance of knowing what your beliefs are and presenting them to others is beyond measure. This is not to be confused with giving your opinion. It's simply important to know what your opinion is. It is imperative that we don't present two faces to the world. We can't control how we are perceived, but we can control what we know about ourselves to be true. It is only with this self awareness that we can be confident in our decisions and actions.
 Confidence is Beauty
Duh! This is a given. Now, I'm not talking about the BS confidence that comes from getting a manicure or putting on mascara. That's all well and good. Let's face it I'm a fan; however, true confidence derives from knowing your authentic self. Not to be confused with knowing everything. It is equally important to realize the extent of your own ignorance. No one knows everything. Life is a lot of learn as you go which at times can be hard. Don't be afraid to be yourself. Wether you are letting your freak flag fly or simply telling someone else how you feel, don't be scared. There's plenty of stuff to be scared of: Donald Trump, spiders, war. Don't waste your time worrying what everybody else thinks of you. That being said…
Practice Kindness
 The one thing everyone else will remember about you is how you made them feel. You don't have to be fake. You don't have to best friends with everyone. In fact, that doesn't sound very authentic at all. Just be nice. Do all things in kindness. It's just a matter of practicing good mental alchemy. Complaining won't make you happier; nor will being shitty to somebody else. If someone is driving you up the walls keep your head down and work on you. You can't change anyone else. You can change yourself!
Here's a short list of random places where I have found inspiration this past month.
Dear Sugar is Cheryl Strayed's podcast. Each week she reads various letters written by the lovelorn and lonely touching on various topics. I find this less of your typical advice giving and more of an attempt at offering empathy and understanding to each and every one of the writers. So many words of wisdom on this show. I can't recommend it enough.
Yoga With Adriene is an awesome free online source for any yogini wether you are a beginner or a seasoned vet. She is an ATX native and has such a fun personality. I particularly love her yoga based on your mood. Pretty cathartic stuff.