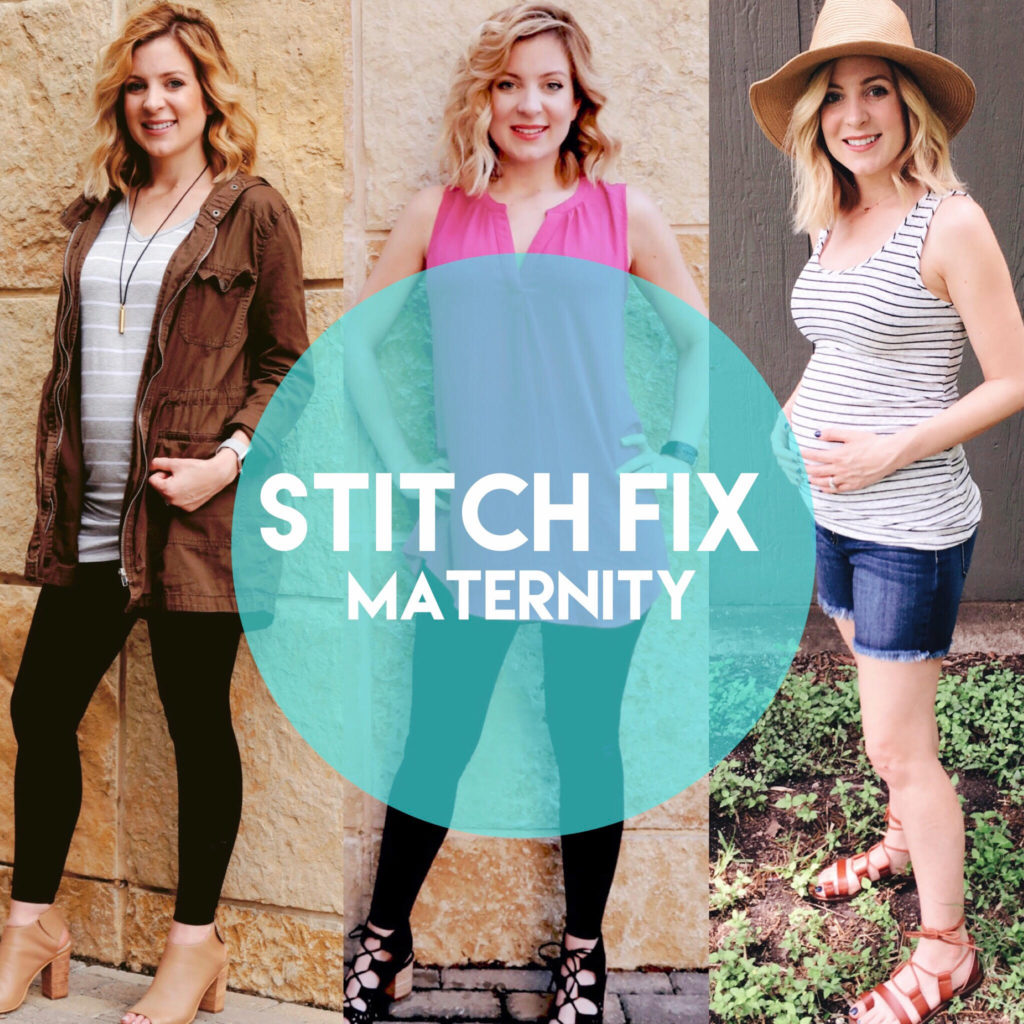 The clothing struggle for new mom's to be is so real! Most companies do not carry their maternity lines in their actual stores so almost all shopping has to be relegated to online. It's impossible to know exactly what you will need for the coming months as your body is changing close to daily. Not to mention, who wants to invest a lot of money on clothes that you will only be wearing short term? That being said, it's pretty difficult to feel comfortable and attractive as your body expands and changes in places and ways you've never imagined. It is important to get a few key pieces you will look good in without spending a fortune. That's where  Stitch Fix comes in!
I had heard of Stitch Fix through various friends that have tried it out  and enjoyed it over the last few years. The basic premise is that you fill out a style profile online categorizing your likes, dislikes, wants, and needs for clothing and accessories as well as the amount you desire to spend. You pay twenty dollars and a box is then sent to you containing five items. If you keep all five of the items you get a discount of twenty percent. You head online to purchase what you would like and your twenty dollars then goes towards your purchase. If you don't like anything you receive you are out the twenty bucks. It is a monthly subscription service, but you can change the frequency you would like your boxes or cancel at any time. I will admit I never had much interest in it before since I'm a bit of a mall rat myself, but once I found out they offered a maternity version I figured I didn't have anything to lose. I filled out my profile and sent specific requests in the notes section to my soon to be stylist for a pair of denim cutoffs, a striped top, and a pair of black work pants.
A few weeks later my first Fix arrived.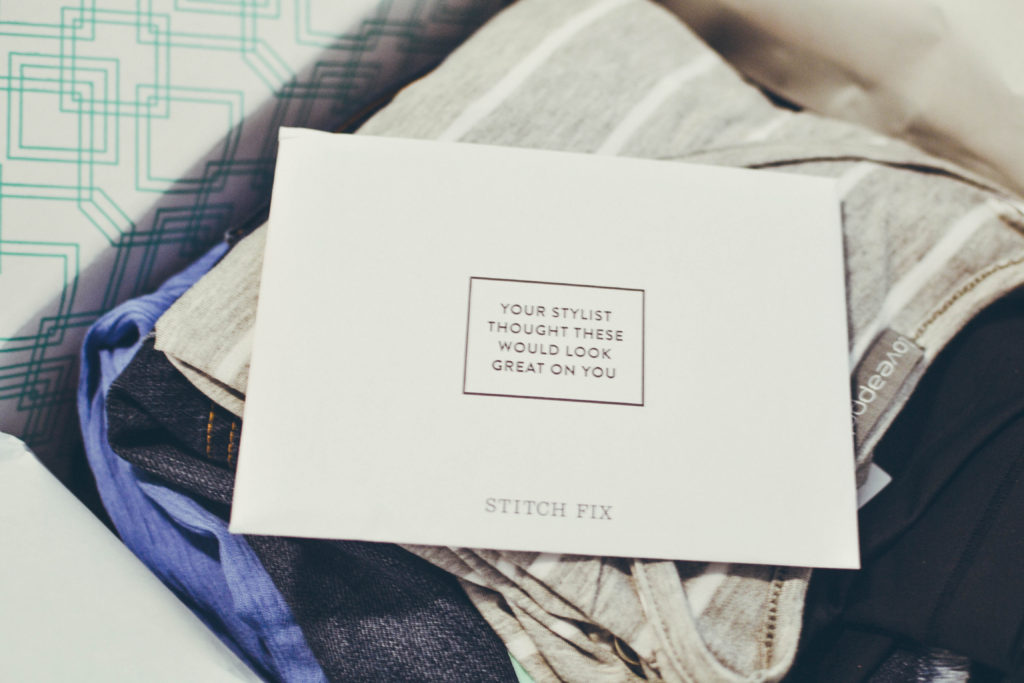 I was beyond pleased to find that my stylist had listened to all of my specific requests from my notes! I received each of the items I asked for along with two other tops to try. I spent time trying on each item and seeing how everything fit and felt and decided to keep all of the items landing me the twenty percent discount. I'm so pleased with my first box that I will absolutely be signing up for at least one or two more rounds before my pregnancy is over. Next time I will request a party dress to wear out as I have a bachelorette party coming up in August.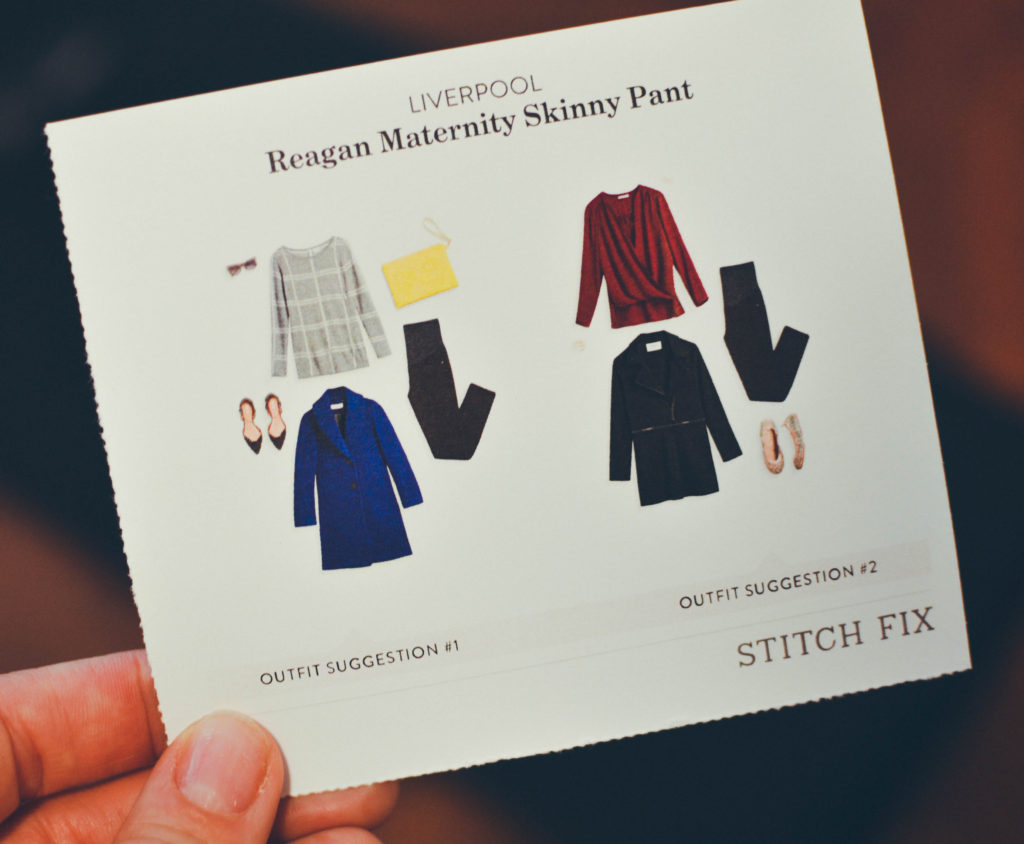 The coolest part is I spent far less than I would have shopping for each of the items individually. I was actually so impressed with the quality and fit of the black work pants they sent me that I searched for them online. I was hoping I might be able to purchase another pair to get me through the next six months only to find that the maternity version of them is exclusive to Stitch Fix. I may have to request another pair from my stylist before it's over!
I think the key to making sure you get the most out of your Stitch Fix is to be VERY specific with your likes and dislikes. I mentioned in my profile that crazy patterns, colored denim, and statement necklaces are all hard passes for me. I did enjoy wearing both of the tops that were sent to me despite the fact that they are not colors I normally gravitate towards. I was surprised to learn that I get a lot of compliments if I wear hot pink! I don't think I would have known that if not for trying this out. In that regard, I think Stitch Fix is great for anyone looking to expand their wardrobe or try something new. Comment and let me know if any of you have tried Stitch Fix or any other subscription clothing boxes and what your experience was. I'm so curious. 🙂